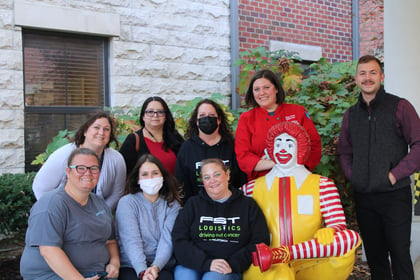 Compass is our employee-led community outreach team, charged with leading change and inspiring all employees to move their communities forward. In 2021, Compass supported three main initiatives including Pelotonia, Ronald McDonald House Charities of Central Ohio (RMHC), and the Green Initiative.
Pelotonia is a Columbus-based non-profit that is working to accelerate innovative cancer research. In 2021, FST Logistics; Pelotonia team included nine riders and 11 volunteers who raised a record-breaking $40,000 through 12 events. Our riders completed a combined total of 1,670 miles.
Ronald McDonald House Charities of Central Ohio is an organization our Compass team has supported for several years. In 2021, restrictions limited our work with them due to the COVID-19 pandemic. However, that did not stop the Compass team from making a bigger impact than in years past. The team made nearly100 Welcome Blankets (these fleece tie-blankets are given to families as they arrive at the house) and collected over 80 pounds of Pop Tabs. The team in total also raised $2,727 for the RMHC. This donation will have a lasting mark; RMHC presented us with a paver on their property to thank us for our donation.
In partnership with Grove City Parks and Recreation, Compass also held 14 street clean-up days along Southpark Place and seven park clean-up days at Fryer Park. In August, Compass also participated in EcoFest, where members of the team educated the public on the use of compressed natural gas in the logistics industry.
During the holiday season, Compass also partnered with the Salvation Army for The Angel Tree Project, which provides new clothing and toys to more than one million children and families in need. Compass set a goal of collecting 125 gifts. It quickly became clear that the goal was going to be surpassed; the team collected over 200 toys for families in the Columbus area.
Throughout 2021, the Compass team logged over 2,000 volunteer hours in Central Ohio. Hours were served at community centers, suicide prevention centers, churches, and food banks.
Last year was a record year, and Compass is set to continue that momentum in 2022. Compass hopes to raise $45,000, serve a total of 3,000 hours, and collect 250 toys for The Angel Tree Project! Stay tuned for updates on our progress.