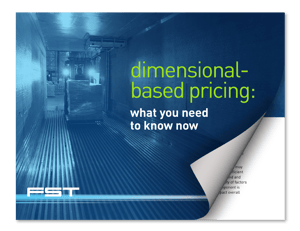 For brands that may struggle to keep up with changes in consumer purchasing habits, it may be difficult to know which strategies to employ in order to create a cost-effective and efficient shipping solution. There are many options for brands to consider that can reduce spend and improve efficiencies; however, knowing where to start is key. While there are a variety of factors that determine the best choice to address unique shipping needs, one critical component is to understand how dimensional-based pricing (or density-based pricing) can impact overall shipping rates.
Dimensional-based pricing or density-based pricing is a practice carriers use to price the cost of transporting parcels based on their size, in addition to weight.
How dimensional (DIM) weight works
Carriers calculate a DIM weight that determines the weight of the parcel based on the parcel size, as opposed to the actual weight in order to generate a price for shipping. If the parcel's actual weight is more than the DIM weight, then that weight is billed. The carrier always charges for the higher weight.
For example, if a package has a DIM weight of 10 pounds, but it has an actual weight of 7 pounds, the package would be calculated at the 10 pound weight.
To learn more about dimensional-based pricing, download our new white paper for free by clicking here.