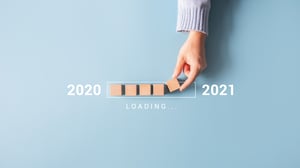 As you try to plan your supply chain needs for next year, you may find yourself unsure where to start. 2020 was challenging, especially for the supply chain, and the idea of predicting needs in 2021 may be difficult with so much uncertainty.
While you cannot predict the future, you can certainly research and use data to help you make informed decisions about your potential needs. This may be an ideal time to consider improvements for streamlining your supply chain so that you can build efficiencies and eliminate unnecessary redundancies in 2021.
Here are four strategies to review as you think about next year:
Identify where your customer base is located. If you have a general idea of where your customer base is located, you can have better insight in regards to where your storage and transportation providers should be located from a geographical perspective. Understanding where your customers need to receive shipments and how fast they need to receive them can possibly impact your overall freight and storage

costs. If most of your customers are on the east coast, and your warehousing and transportation providers are strategically located in that area, you'll have product where you need it and when you need it, reducing lead times and freight/storage costs.

Evaluate your existing transportation operations. Every transportation operation will be different depending on your needs. Whether you are shipping into a big box store like Walmart or you have an e-commerce operation that requires you to ship direct-to-consumer, you should fully evaluate your existing operations. Take a look at things like

transit time, freight spend and small parcel programs. For example, could you save money by line hauling products? Would your operation benefit from an analysis of existing transportation operations? If you partner with a third-party logistics (3PL) provider, the 3PL should serve as your advisor to make transportation recommendations as the market changes and your needs evolve.

Consider your own brand's growth.

Think about your business' growth plan and future sales and marketing plans. For you, the ability to flex to capacity is key. If you have significant growth goals in 2021, be sure your supply chain is built to handle it. If not, it is best to pull in a partner like a 3PL so they can help you scale accordingly to help you meet those demands.

Review your information technology requirements. By having a firm understanding of existing IT requirements, you can better plan system updates that your partners may need to be aware of in 2021. If working with a 3PL, they can help you understand how updates may work with their systems, and if there may be potential integration issues down the road should updates occur. By thinking about this now, you can mitigate or lessen the likelihood of any unforeseen issues.
While these are just a handful of strategies to consider if you want to simplify your supply chain next year, partnering with a 3PL may be the best choice for your business.