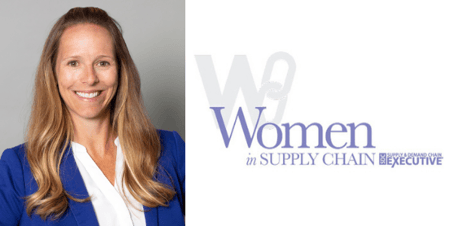 Jill Kuhlman, Chief Administrative Officer for FST Logistics, was named as a recipient of the first ever Women In Supply Chain Awards by Supply & Demand Chain Executive magazine today. This award honors female supply chain leaders and executives whose accomplishments, mentorship and examples set a foundation for women in all levels of a company's supply chain network.
In her role, Kuhlman oversees all aspects of human resources, risk management and corporate compliance. She has over 15 years of professional experience leading large teams in both the supply chain operations and talent acquisition industries. During that time, Kuhlman has recognized the importance of taking on leadership roles within the industry and community to provide a different perspective on supply chain issues.
"It is important for me to encourage future professionals, especially young women, who may consider careers in supply chain to learn about different opportunities within the industry," said Kuhlman. "Retention continues to be an issue, and we need to mentor those on the verge of entering our field. Mentorship provides a means to promote diversity of thought and in turn, leads to innovation within the supply chain."
As a female executive, she understands the importance of preparing tomorrow's supply chain leaders through her advocacy work. Kuhlman is a member of the Columbus Region Logistics Council, she serves on the board for Employment for Seniors, and she is on the advisory board of Columbus Works, Inc. Previously, she was a member of the American Staffing Association and served as a sub-chair member for the ASA Women in Leadership Council.
"According to Gartner's 2020 Women in Supply Chain Survey, 17 percent of chief supply chain officers are now women – a six percent increase compared to 2019. This award resembles females supporting other female leaders; men supporting their female counterparts," said Marina Mayer, editor-in-chief of Supply & Demand Chain Executive and Food Logistics. "It resembles the future. It represents growth, evolution and community. And, that future shows that it's a great time to be a part of the supply chain industry."
To see the full list of winners, click here.
About FST Logistics, Inc.
Based in Columbus, Ohio, FST Logistics first opened its doors in 1991 with 11 committed employees and a business model that solely focused on shipping and transportation efforts. FST Logistics now employs over 400 staff members at any given time and provides the best temperature-controlled transportation services and warehousing capabilities. We have over 1 million square feet of dry, refrigerated and frozen space and specialize in assisting emerging food brands. As an employee-owned company, we have a reputation of unsurpassed customer service and a clear knack for communication; our goal is to continue to grow by employing the best minds and talent the industry has to offer.
About Supply & Demand Chain Executive
Supply & Demand Chain Executive is the executive's user manual for successful supply and demand chain transformation, utilizing hard-hitting analysis, viewpoints and unbiased case studies to steer executives and supply management professionals through the complicated, yet critical, world of supply and demand chain enablement to gain competitive advantage.