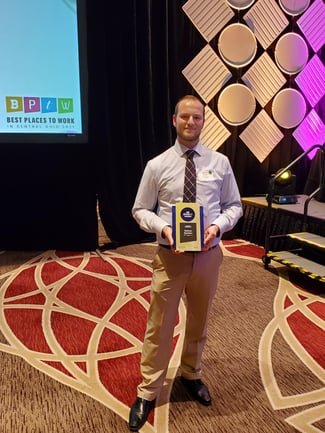 Columbus, Ohio - Nathan Spektor, Human Resources Generalist at FST Logistics, was recognized today by Columbus Business First as a 2021 HR Impact Award Honoree. These awards recognize excellence by human resources professionals across sectors in Central Ohio.
Spektor stepped into the position in November 2020, where he has excelled, making instrumental strides in creating processes and procedures that have impacted the human resources operation at FST Logistics. In his role, Spektor oversees four warehouses throughout Columbus and manages the human resources needs for approximately 200 employees. Within this first year, he has created and implemented a revised employee orientation program, sought out partnership opportunities with Columbus State Community College and developed a month-long training program for new supervisors.
"Nathan has been a wonderful addition to our team," said Jill Kuhlman, Chief Administrative Officer of FST Logistics. "He goes above and beyond his job description daily, and we aspire to recruit GrowGetters, which are those special people who have an entrepreneurial mindset with a knack for seeing the bigger picture. Nathan embodies the spirit of a GrowGetter"
Spektor will be recognized as an honoree this week by Columbus Business First.
About FST Logistics, Inc.
Based in Columbus, Ohio, FST Logistics first opened its doors in 1991 with 11 committed employees and a business model that solely focused on shipping and transportation efforts. FST Logistics now employs over 400 staff members at any given time and provides the best temperature-controlled transportation services and warehousing capabilities. We have over one million square feet of dry, refrigerated, and frozen space and specialize in assisting emerging food brands. As an employee-owned company, we have a reputation of unsurpassed customer service and a clear knack for communication; our goal is to continue to grow by employing the best minds and talent the industry has to offer.