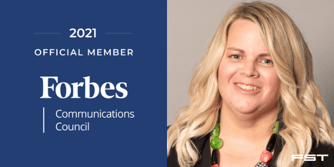 Columbus, Ohio — Sara McKinniss, Marketing Director for FST Logistics, Inc., a leading provider of temperature-controlled warehouse and transportation solutions in Central Ohio, has been accepted into Forbes Communications Council, an invitation-only community for executives in communications, marketing, and public relations.
McKinniss was vetted and selected by a review committee based on the depth and diversity of her experience. Criteria for acceptance include a track record of successfully impacting business growth metrics, as well as personal and professional achievements and honors.
"We are honored to welcome her into the community," said Scott Gerber, founder of Forbes Councils, the collective that includes Forbes Communications Council. "Our mission with Forbes Councils is to bring together proven leaders from every industry, creating a curated, social capital-driven network that helps every member grow professionally and make an even greater impact on the business world."
McKinniss has been invited to work with a professional editorial team to share her expert insights in original business articles on Forbes.com and to contribute to published Q&A panels alongside other experts. As an accepted member of the Council, she will connect with other respected local communications leaders in a private forum.
"I'm excited to share my insights with the Forbes Communications Council," said McKinniss. "As someone who has spent a majority of my career in supply chain and logistics, I look forward to learning and collaborating with other professionals not only from my industry, but others as well."
About FST Logistics, Inc.
Based in Columbus, Ohio, FST Logistics first opened its doors in 1991 with 11 committed employees and a business model that solely focused on shipping and transportation efforts. FST Logistics now employs over 400 staff members at any given time and provides the best temperature-controlled transportation services and warehousing capabilities. We have over one million square feet of dry, refrigerated and frozen space and specialize in assisting emerging food brands. As an employee-owned company, we have a reputation of unsurpassed customer service and a clear knack for communication; our goal is to continue to grow by employing the best minds and talent the industry has to offer.
About Forbes Councils
Forbes Councils is a collective of invitation-only communities created in partnership with Forbes and the expert community builders who founded Young Entrepreneur Council (YEC). In Forbes Councils, exceptional business owners and leaders come together with the people and resources that can help them thrive.