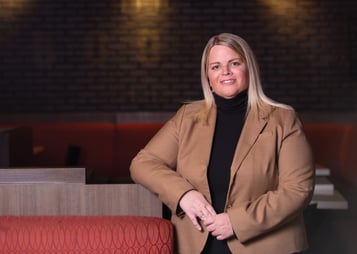 Columbus, Ohio- Sara McKinniss, Marketing Director for FST Logistics, was named to the Columbus CEO 2022 Future 50 list this past week. This list is a diverse group of accomplished people committed to making Columbus, Ohio a world-class community.
From Columbus CEO, "This annual endeavor, [in its] third time this year, calls together the region's most innovative thinkers and doers to offer their leadership as we confront issues like the wealth gap, racism, education, and how the arts can bring us closer together."
Each year the Future 50 works together to complete projects of their choosing. Projects should be specific and achievable within one year. The idea is that the project creates meaningful, quantifiable change in the Columbus region. The project embodies the Future 50 core values—achievement, altruism, boldness, creativity and inclusivity. Future 50 members are identified by the previous class (2 votes) and Columbus CEO editorial staff (1 vote) based on their achievements, generosity of spirit (and deed) and ideas for creating lasting social impact.
McKinniss was selected based on her idea to create a community-led career development center for those coming from underserved communities to have a place where they can turn for career mentorship and professional development. As the logistics and supply chain field grows in Ohio and the labor need does too, this serves as a great opportunity to possibly connect those seeking careers in logistics with a place to turn.
You can read more about McKinniss' recognition by clicking here.