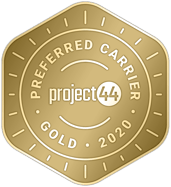 project44, which provides the first standard of web services-enabled communication to the freight industry, recently named FST Logistics as a project44 Gold Preferred Carrier.
This recognition means that FST Logistics outperformed tens of thousands of full truckload carriers on the project44 network by providing automated visibility updates to customers with more accurate, timely, and higher quality data than other peers.
As a project44 Gold Preferred Carrier, FST Logistics has proven to be a qualified full truckload carrier on the project44 network, consistently showing elite visibility performance.
In order for FST Logistics to qualify for this recognition, the following criteria must have been met for at least 30 days:
Maintained an active connection with project44, either via a direct API connection or with a telematics device (GPS, ELD, etc.)
Moved at least 10 loads with mutual customers during the month
Achieved 100% trackability across those loads
For more information about project44, click here.