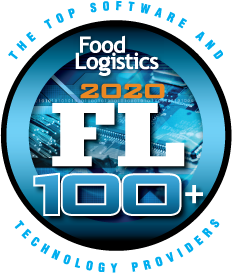 Columbus, Ohio - FST Logistics, Inc. was named to the 2020 Food Logistics' FL100+ Top Software and Technology Providers list today. This list recognizes and honors leading software and technology providers, including third-party logistics (3PL) companies, that ensure a safe, efficient and reliable global food and beverage supply chain.
In 2020, FST Logistics made a commitment to making significant operational investments to implement new technological solutions. These investments include the development of a forthcoming customer portal, a customer relationship management tool and additional system integration capabilities with the warehouse and transportation management systems.
"Technology remains vital to the success of our organization," said Matt Hartman, president and chief executive officer of FST Logistics. "We must remain steadfast in our pledge to invest in appropriate technologies that will help us deliver on the promises we make to our customers. Full visibility of the supply chain remains critical to our customers, and they rely on us to provide that for them. Through these investments, we can ensure a better and safer supply chain experience for all. "
The need for supply chain visibility and seamless technological integrations remained an imperative component to many operations this year due to COVID-19. Through these technological integrations and investments, FST Logistics continued to keep the supply chain moving for customers partly in thanks to prioritizing these initiatives.
"From fleet management to warehouse management to simply just track and trace along the cold food chain, these software and technology providers have definitely stepped it up to ensure cold food and beverage products continue moving along the line without incident," says Marina Mayer, editor-in-chief of Food Logistics and Supply & Demand Chain Executive. "This pandemic has thrown the food industry a curveball, but many of these providers fast-tracked the development and deployment of their solutions to ensure food safety, traceability, visibility and quality assurance."
About FST Logistics, Inc.
Based in Columbus, Ohio, FST Logistics first opened its doors in 1991 with 11 committed employees and a business model that solely focused on shipping and transportation efforts. FST Logistics now employs over 400 staff members at any given time and provides the best temperature-controlled transportation services and warehousing capabilities. We have over one million square feet of dry, refrigerated and frozen space and specialize in assisting emerging food brands. As an employee-owned company, we have a reputation of unsurpassed customer service and a clear knack for communication; our goal is to continue to grow by employing the best minds and talent the industry has to offer.
About Food Logistics
Food Logistics is published by AC Business Media, a business-to-business media company that provides targeted content and comprehensive, integrated advertising and promotion opportunities for some of the world's most recognized B2B brands. Its diverse portfolio serves the construction, logistics, supply chain and other industries with print, digital and custom products, events and social media.