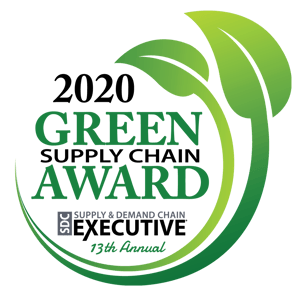 Columbus, Ohio- FST Logistics, Inc. was named as a recipient of the Green Supply Chain Award by Supply & Demand Chain Executive magazine today. This award recognizes companies making green or sustainability a core part of their supply chain strategy and are working to achieve measurable sustainability goals within their own operations and supply chains.
For over a decade, FST Logistics has made a corporate commitment to furthering sustainability in the supply chain. As a provider of both temperature-controlled warehousing and transportation solutions, reducing the carbon footprint and overall environmental impact these operations have on the planet remains central to the company's mission.
"It is important for us to identify sustainable ways to operate as a company," said Matt Hartman, president and chief executive officer of FST Logistics. "We not only want to provide the best-in-class services we can for our customers, but we want to do so in an eco-friendly way. Whether that is through the use of our fleet that runs on compressed natural gas or using a quick charge system with our battery-operated forklifts, initiatives like these add up over time to create a greener operation."
FST Logistics remains committed to finding innovative measures to further reduce the company's impact on the environment. The company employs a variety of tactics to ensure that both the warehousing and transportation services offered for customers are as green as possible.
"This year's 13th-annual award recognizes small, mid-size and large enterprises that leveraged green practices and solutions to further drive sustainable improvements in their supply chain," says Marina Mayer, editor-in-chief of Supply & Demand Chain Executive and Food Logistics. "From software solutions to transportation management systems to several other initiatives designed to reduce carbon footprint and improve the re-use of materials, sustainability continues to rank as a key component to a stronger, safer and more efficient supply chain."
About FST Logistics, Inc.
Based in Columbus, Ohio, FST Logistics first opened its doors in 1991 with 11 committed employees and a business model that solely focused on shipping and transportation efforts. FST Logistics now employs over 400 staff members at any given time and provides the best temperature-controlled transportation services and warehousing capabilities. We have over one million square feet of dry, refrigerated and frozen space and specialize in assisting emerging food brands. As an employee-owned company, we have a reputation of unsurpassed customer service and a clear knack for communication; our goal is to continue to grow by employing the best minds and talent the industry has to offer.
About Supply & Demand Chain Executive
Supply & Demand Chain Executive is the executive's user manual for successful supply and demand chain transformation, utilizing hard-hitting analysis, viewpoints and unbiased case studies to steer executives and supply management professionals through the complicated, yet critical, world of supply and demand chain enablement to gain competitive advantage.