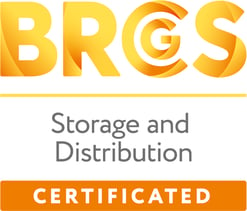 Columbus, Ohio – FST Logistics, a world-class provider of temperature-controlled warehousing and transportation solutions, received the British Retail Consortium (BRCGS)'s highest announced AA rating related to food safety for the second year in a row this week. The food grade warehouse located at 3280 Southpark Place in Grove City, Ohio earned the top honor.
The BRCGS establishes a set of food safety standards, which is globally recognized as the most rigorous third-party certification an entity can receive. These standards reflect best practices and facilitates a process of continual improvement through well-designed risk-based food safety management systems.
"Our top goal as a company is safety, and we want to ensure that our customers' product is stored, managed and transported safely," said Eric Richter, Safety and Compliance Manager. "We want to ensure that we're exceeding expectations when it comes to food safety, and this rating is a reflection of our internal efforts. This standard provides assurance to our customers that our warehouse, cross dock, and transportation group handles food product safely, legally, and of high quality."
Ratings are given during both announced and unannounced audits; the highest achievable rating during an announced audit is AA, which FST Logistics was granted the past two years. However, FST is dedicated to continuous improvement and has set a corporate goal of AA+ unannounced rating in 2023.
The BRCGS certification ensures the quality and safety of food product during their storage and distribution throughout the supply chain. BRCGS certifications are conducted annually and are subject to an independent third-party audit by a trained auditor.
About FST Logistics, Inc.
Based in Columbus, Ohio, FST Logistics first opened its doors in 1991 with 11 committed employees and a business model that solely focused on shipping and transportation efforts. FST Logistics now employs over 400 staff members at any given time and provides the best temperature-controlled transportation services and warehousing capabilities. We have over one million square feet of dry, refrigerated and frozen space and specialize in assisting emerging food brands. As an employee-owned company, we have a reputation of unsurpassed customer service and a clear knack for communication; our goal is to continue to grow by employing the best minds and talent the industry has to offer.