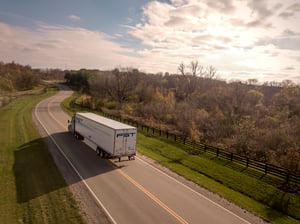 In a new report from the American Trucking Association (ATA), the seasonally-adjusted for-hire truck tonnage index increased 6.7% in September. When compared to a decline 5.3% in August, this growth is significant.
According to the report, the retail and home construction markets remained strong in terms of growth, but industrial freight remained stagnant. In terms of overall tonnage, when compared with the same time frame last year, the rate is down about 3.3%.
This monthly report serves as a gauge to show how the U.S. economy is performing. In light of COVID-19, e-commerce remains important. Businesses need to move freight to meet consumer demand and truck drivers are relied upon to keep America's economy moving. According to the ATA, nearly 70% of all tonnage in the U.S. is carried by domestic transportation methods.
Per the ATA website, "The ATA calculates the tonnage index based on surveys from its membership and has been doing so since the 1970s. This is a preliminary figure and subject to change in the final report issued around the 5th day of each month. The report includes month-to-month and year-over-year results, relevant economic comparisons, and key financial indicators."