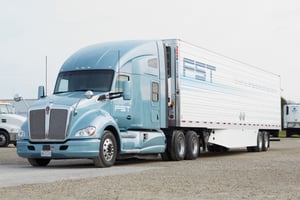 Selecting the right temperature-controlled transportation provider can impact your operations and overall bottom line. Shipping perishable products is not always easy, but a good partner will understand that packing space, temperature control and air flow are key to ensuring proper handling, in addition to several other factors. In order to find the right solution to meet your business goals, there are several key items to evaluate when selecting a partner to help you execute your transportation needs.
Here are the first three things you should keep in mind when selecting a temperature-controlled transportation solution:
Does the provider have experience? One of the biggest drivers that will determine a successful relationship with a provider will be their experience with temperature-controlled transportation. It is important to look for a provider who has proven abilities to know the nuances associated with delivering perishable goods. Are they aware of how to manage packing space? Is the fleet reliable? Do they ensure good air flow for product to stay at the desired temperature? A good partner will know the answers for your product and will be more than comfortable making recommendations on how to ship them in an efficient and cost-effective manner. The right provider can also serve in both a consultative and service role, where they not only find opportunities to improve your current transportation solution, but they will make recommendations on how to course correct those problems so you save money and time in the future.
Do they offer a single source temperature-controlled transportation and warehousing solution? This can work in your favor. If a provider, such as a third-party logistics (3PL) company, can offer a single source transportation and warehousing solution, your brand will benefit from managing one provider as opposed to multiple. By knowing that one partner has your product, you streamline your overall supply chain operations. This reduces the likelihood of errors, reducing possible expensive mistakes. When more parties enter into the supply chain, there is the potential for more issues to arise. By reducing the number of partners and using a 3PL, your brand can save money in the long run.
Is the partner compliant in their service offering? Perishable goods are warehoused and transported differently than other items that can be stored/shipped in more traditional settings. Because of the nature of these items, there are different regulatory requirements that must be met in order to make sure the goods remain viable for consumption/use. By having a compliant partner, you can ensure that your products remain safe to use from the point of manufacturer to the end user. When learning more about a temperature-controlled transportation solutions, ask how the service provider maintains and exceeds their commitments to being compliant.
There are a number of other considerations to keep in mind when evaluating a temperature-controlled transportation solution. Next week, we will share additional insights. For more information on our transportation solutions, click here.