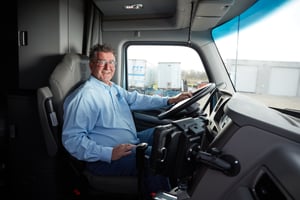 Over the past two weeks, we shared our first and second blogs in a series of three, which outline the top ten things you should know when selecting a temperature-controlled transportation solution.
As we have stated before, selecting the right provider can significantly impact your operations and overall bottom line.
Here are the four final things you should consider when evaluating a temperature-controlled transportation solution for your business:
1. Does the provider have the ability to work within your distribution network? One key consideration you should evaluate when identifying a temperature-controlled transportation provider is to make sure they have the ability to work within your distribution network. As more people turn to e-commerce channels to do their shopping, it is imperative that your products are where they need to be when they need to be there. Whether your products are sold in brick-and-mortar outlets or through an online storefront, it is important that your products be ready and available to those end users who need them. Your distribution networks may have their own shipping and receiving requirements, and some may have geographical locations that make it hard to reach. Your partner should know the nuances of the markets where you do your business and how to best get the products there on-time and on-budget.
2. Is it easy to do business with the provider? While this may seem like a "no-brainer," in today's constantly evolving world of transportation, you should think about how easy it is to do business with the provider. Are they responsive? Will they pick up the phone? Do they have a take-charge and can-do attitude? Do they share information in a consistent and transparent way? Are they open to feedback? Reflecting on these points can provide you with a perspective that you might not have considered if a solution is only chosen on something like price or location.
3. Does the provider have strong relationships with its employees, partners and customers? When a provider has good relationships with their employees, partners and customers, it shows. It is usually indicative of their ability to provide transparency as an organization, which in turn leads to top notch customer service. Not all providers are the same and those that outperform their competitors usually have identifiers that make them a preferred provider over others. Simple ways to do this are to talk to employees (when applicable), ask corporate leadership the tough questions if necessary, obtain customer references and evaluate the providers' metrics. The right provider will engage in a two-way dialogue.
4. Lastly, is the provider consistent in their pricing? While certain market conditions may impact transportation pricing from time-to-time, the right provider will be relatively consistent. You should not experience inconsistent pricing issues on a routine basis. The right provider will ensure that your spend on temperature-controlled transportation is maximized.
There are many factors that can potentially impact an important decision like choosing the right transportation provider. There should never be a one-size-fits-all solution when it comes to your business. While these are just a few points, they should only serve as the beginning of a checklist for engaging in conversation with a potential new transportation solution. Ultimately, the right provider will make sure that you are a partner in the relationship with an understanding that they should serve as an extension of your business.