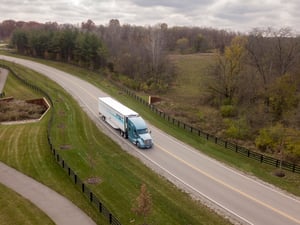 Last week, we published our first blog in a series of three, which outlines the top ten things you should know when selecting a temperature-controlled transportation solution.
Selecting the right provider can impact your operations and overall bottom line.
Here are three more items you should consider when evaluating a temperature-controlled transportation solution for your brand:
Does the provider operate at the correct range of temperatures? Due to the nature of perishable products, it is imperative that the provider operates within the correct ranges of acceptable temperatures to ensure product safety. Temperature variance not only affects product safety but can impact overall product quality. If products are not transported correctly, improper shipping can result in damages, costing your brand possible profit losses. Ensuring that a provider has the capability to run specific loads at certain temperatures helps mitigate these risks. The provider should also have the systems in place to monitor, track and audit the temperatures of products in transit. Depending on your needs, the right provider will make the best recommendations to keep products safe no matter what your temperature requirements may be.
Do they offer reliable reporting? In today's world, real-time accurate reporting is key to making important business decisions. When selecting a temperature-controlled transportation solution provider, you should evaluate what type of reporting metrics that they make available to you. Consider if the reporting is easily accessible and understood. Ask yourself the following: Does the reporting provide meaningful insight to support your business operations? Does it fully integrate with your systems? Does it deliver the data you need in a way that makes the most sense? The right provider will share what type of reporting they offer and how it can best serve your business needs.
Is the provider dependable? There are many definitions of what constitutes a dependable provider; however, the end goal for most brands is to ensure that products are delivered on-time, on-budget where they need to be in a safe and efficient manner. When selecting a temperature-controlled transportation solution, you should seek out a partner who has proven abilities to meet your business needs. The right provider will show transparency in their solution offerings and will truly serve your business as a partner. The provider should care about your business as though it is their own.
These are just a few considerations to keep in mind when selecting a temperature-controlled transportation solution. Next week, we will share the last four insights that should play an integral role when choosing a provider. For more information on our transportation solutions, click here.