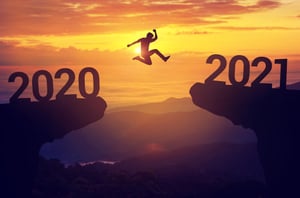 2020 has been an interesting year to say the least.
What was on track (or projected to be) a record growth year for many companies, especially new or emerging food and beverage brands, in fact turned out to be a year of lessons learned. Despite the COVID-19 pandemic, the supply chain has shown resiliency for many companies and ultimately consumers.
While the events of this past year weren't predicted by anyone, it certainly makes planning for 2021 a bit challenging given the fact that many are still feeling the effects of the pandemic among other factors.
Here are a few areas where we see a focus on trends in the supply chain for 2021:
1. More consumers will continue to shop online; be prepared for an increased demand on your e-commerce operations. E-commerce is expected to reach $795 billion this year or a 32% increase over last year. Amazon sellers sold over a billion packages this holiday season. Demand for warehouse space continues to increase due to e-commerce growth. As the demands on e-commerce continue to increase, so too will the need for brands to be prepared with a scalable strategy for growth. Partnering with a third-party logistics provider (3PL) can help you do this efficiently and effectively as your brand requires it.
2. If your brand ships direct-to-consumer, expect to see changes with small parcel shipment programs. FedEx recently announced that peak surcharges are expected to continue until after the first of the year. The USPS announced recent rate hikes as well for 2021. Shipments may also be delayed due to increase in e-commerce demands until after the first of the year. With these changes in delivery time and cost, anticipate carriers implementing changes to their parcel programs. A 3PL can help take the guesswork out of figuring out the best small parcel shipping program for your brand and maximize your spend at the same time.
3. Look for blockchain technologies to play a role in the food supply chain. Traceability and transparency in the food supply chain remains top of mind for many brands as food safety remains paramount for consumers, especially in a pandemic environment. Emerging blockchain technologies will continue to play an increased role in the food and beverage industry as government and consumer demand for transparency in the supply chain increases. Blockchain technologies can help when it comes to food safety recalls and provide better visibility of food origin and processing sources.
While these are ongoing issues for the supply chain not only internationally but domestically, they serve as an important reminder to ensure that you're engaged with the right partner, such as a 3PL, to optimize your supply chain decisions and spend.