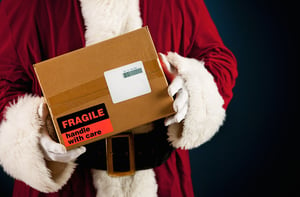 The holiday season has arrived, and while this year has been a rather odd year, make no mistake, the demand for e-commerce is at an all-time high in light of the events of 2020. In the second quarter of this year alone, e-commerce sales were up a record 44.4 percent over the same period last year. This number was projected to only increase as we head into the holiday season.
This surge in e-commerce growth is reflected in the demand of consumers that want to shop safely this holiday season, which means avoiding brick-and-mortar outlets altogether as COVID-19 remains an issue. As a result, more consumers are expected to go online to make their purchases this holiday season (nearly 59 percent of those surveyed recently said they'd go online to buy what they need). For those that are shopping online, consumers can expect slow shipments and deliveries.
So what do all of these e-commerce changes mean for brands and their supply chains (particularly with small parcel)?
Well, a few things:
Give orders extra time. With carriers experiencing an overwhelming demand for parcel services, brands should plan to alert customers with possible increases in lead time between fulfillment and delivery. Due to an increase in overall e-commerce orders across the board, the result will be additional pressure on teams to ensure orders are fulfilled accurately and delivered safely in the timeframe expected. Brands should plan ahead. Having a knowledgeable partner like a third-party logistics (3PL) provider can help you scale correctly whether it is during the holiday season or another peak season in your business.
Increased costs for parcel shipping. The current market may lead to increased costs for those brands that have small parcel shipping needs. USPS and DHL have already announced rate hikes for this season, and you can expect others to possibly follow suit throughout the winter as shoppers stay home. A 3PL should help maximize your existing parcel programs to ensure cost-savings opportunities where appropriate.
Getting creative. As the demand increases for brands to keep up with the changes of e-commerce, brands should expect for everyone to get creative when navigating this shift. Whether its seeing more of the brick-and-mortar outlets they ship to shift to curbside pickup models or abandoned shopping malls converted to fulfillment centers, or utilizing zone skipping, the possibilities are endless. The success of how these new innovations will lead to filling some of the supply chain gaps is yet to be known, but expect to see additional creative responses to the changing demands.
The upcoming holiday season is expected to be a record-setting year for e-commerce growth. By anticipating the possible changes the current environment brings with it, your brand can respond accordingly.